Industrial-Grade or Consumer-Grade
Take Your Pick.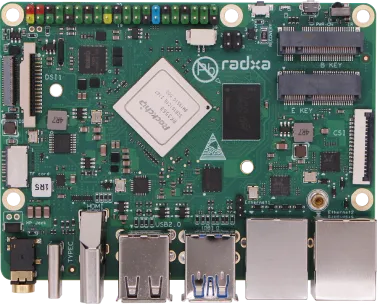 OR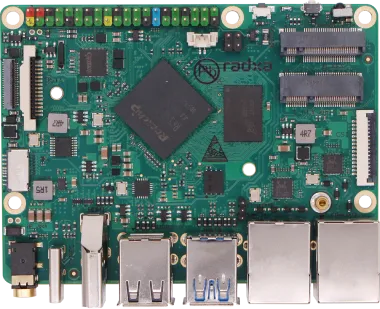 Industrial-Grade
-40°C ~ 85°C
Wide Temperature

Stable Operation

Low Power
Radxa ROCK 3B
Rockchip RK3568(J) With 22nm Lithography Process,
It Features High Performance and Low Power Consumption with Lightweight AI NPU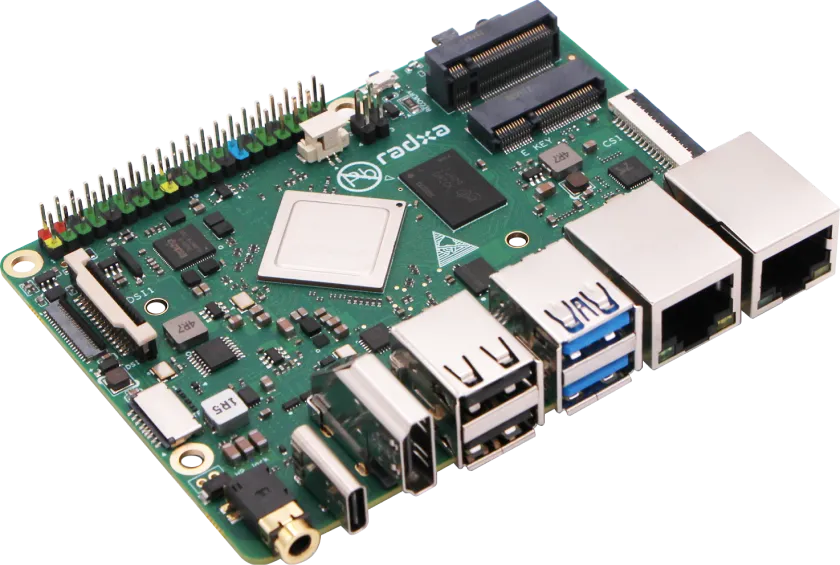 CPU: Quad-core ARM Cortex-A55
up to 2.0GHz
GPU: ARM G52-2EE
Support OpenGL ES 1.1 / 2.0 / 3.0 / 3.1 / 3.2, OpenCL 2.1,
Vulkan 1.1
NPU: Processing Performance up to 1 TOPS
Support Deep Learning Frameworks
Outstanding GPU Performance for
Stunning Graphics Experience
The Mali™-G52 utilizes a wider execution engine, offering up to 8 threads compared to its predecessor's 4
threads. It provides higher graphics performance on the same chip area, resulting in a 15% improvement in
energy efficiency, reducing device power consumption and heat generation, while also supporting longer gaming time.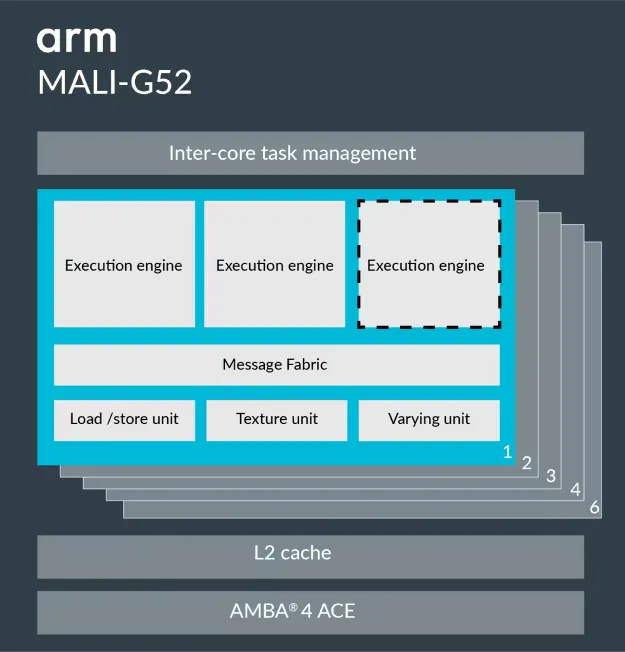 "30%"
More performance density
"15%"
Better energy efficiency
"3.6x"
ML improvements
Revolutionize Industrial AI Computing with
ROCK 3B's NPU Acceleration
The RK3568(J), integrated with a specialized NPU, catalyzes innovations with its remarkable computing capabilities, delivering
1 TOPs@INT8
performance
Multifunctional Interface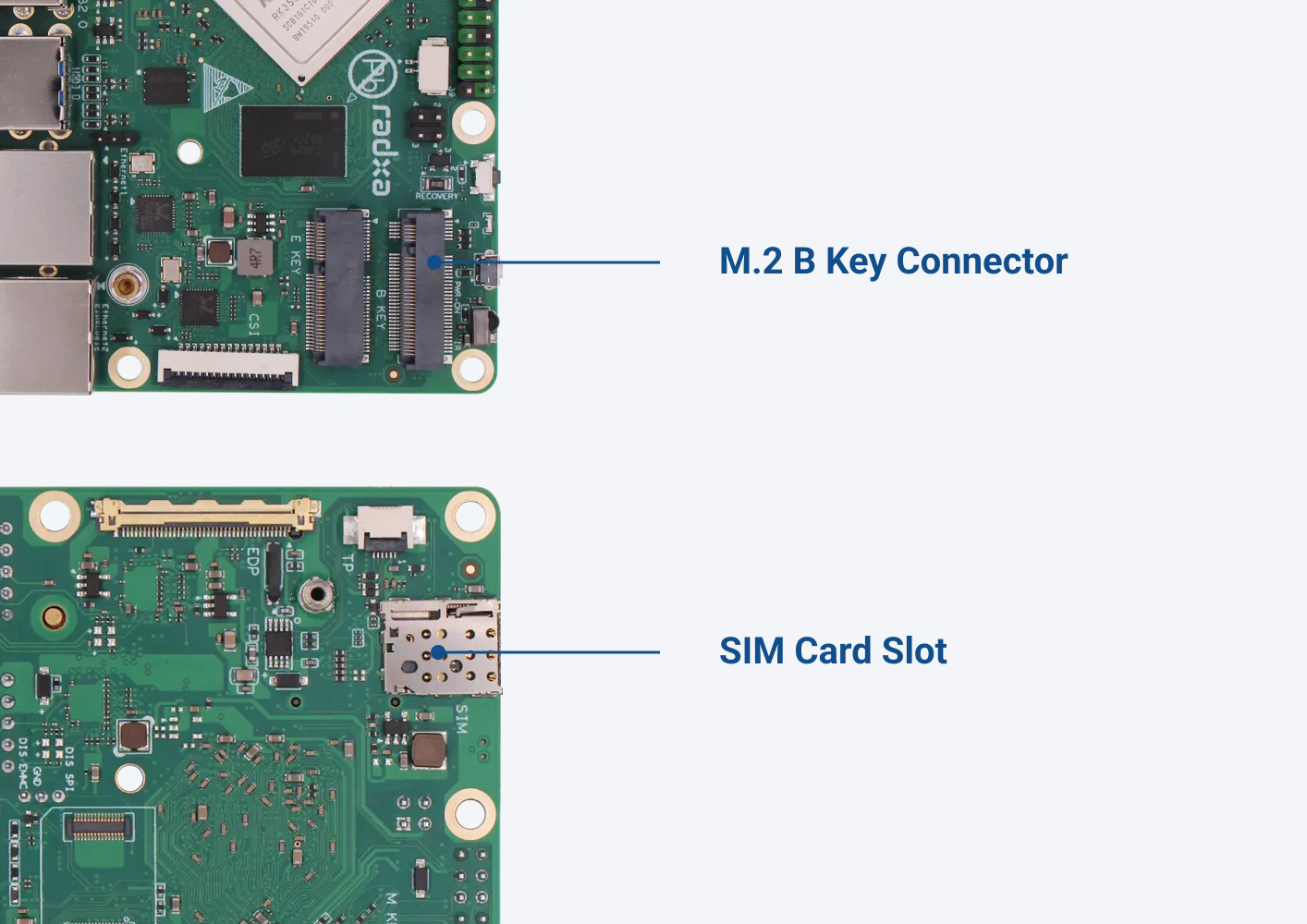 Enjoy the 4G/5G mobile network experience
Experience High-Speed, Low-Latency Wired and Wireless Connections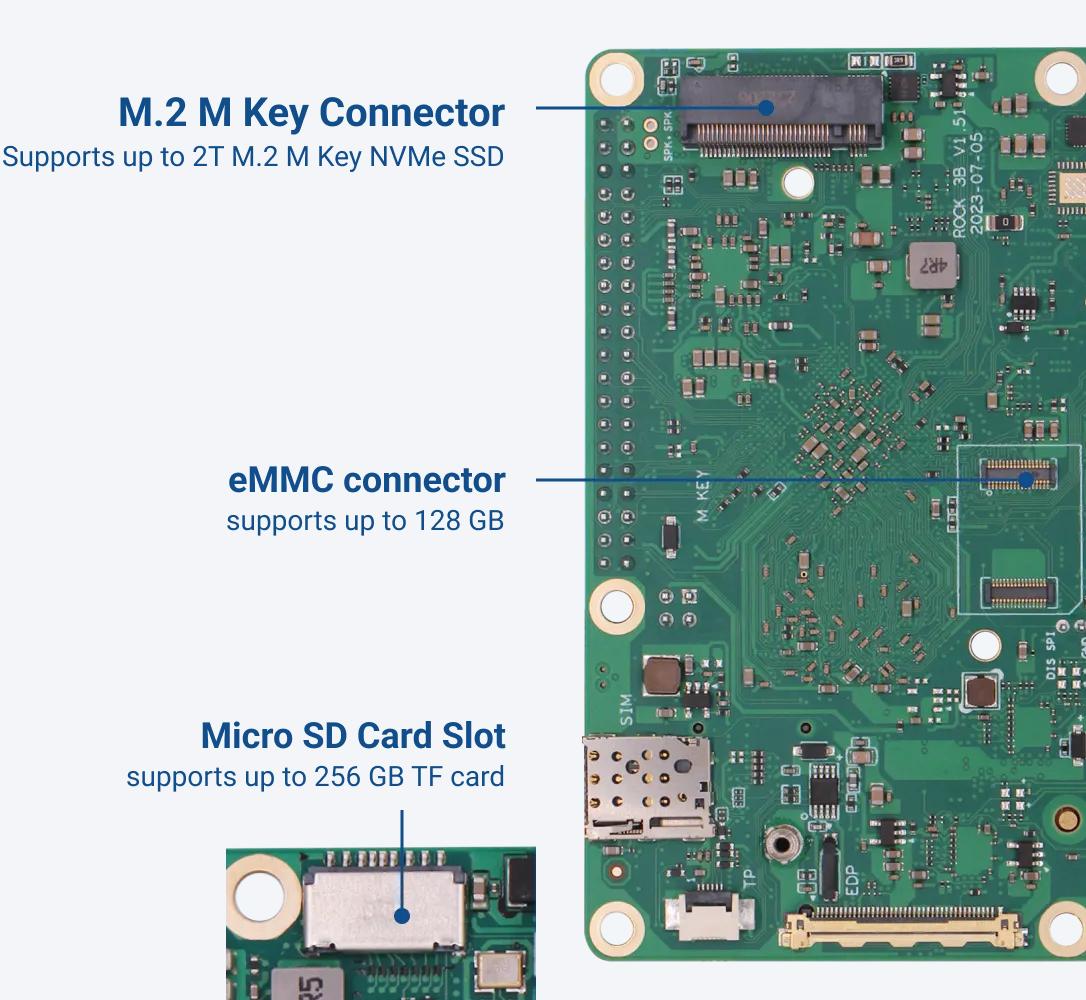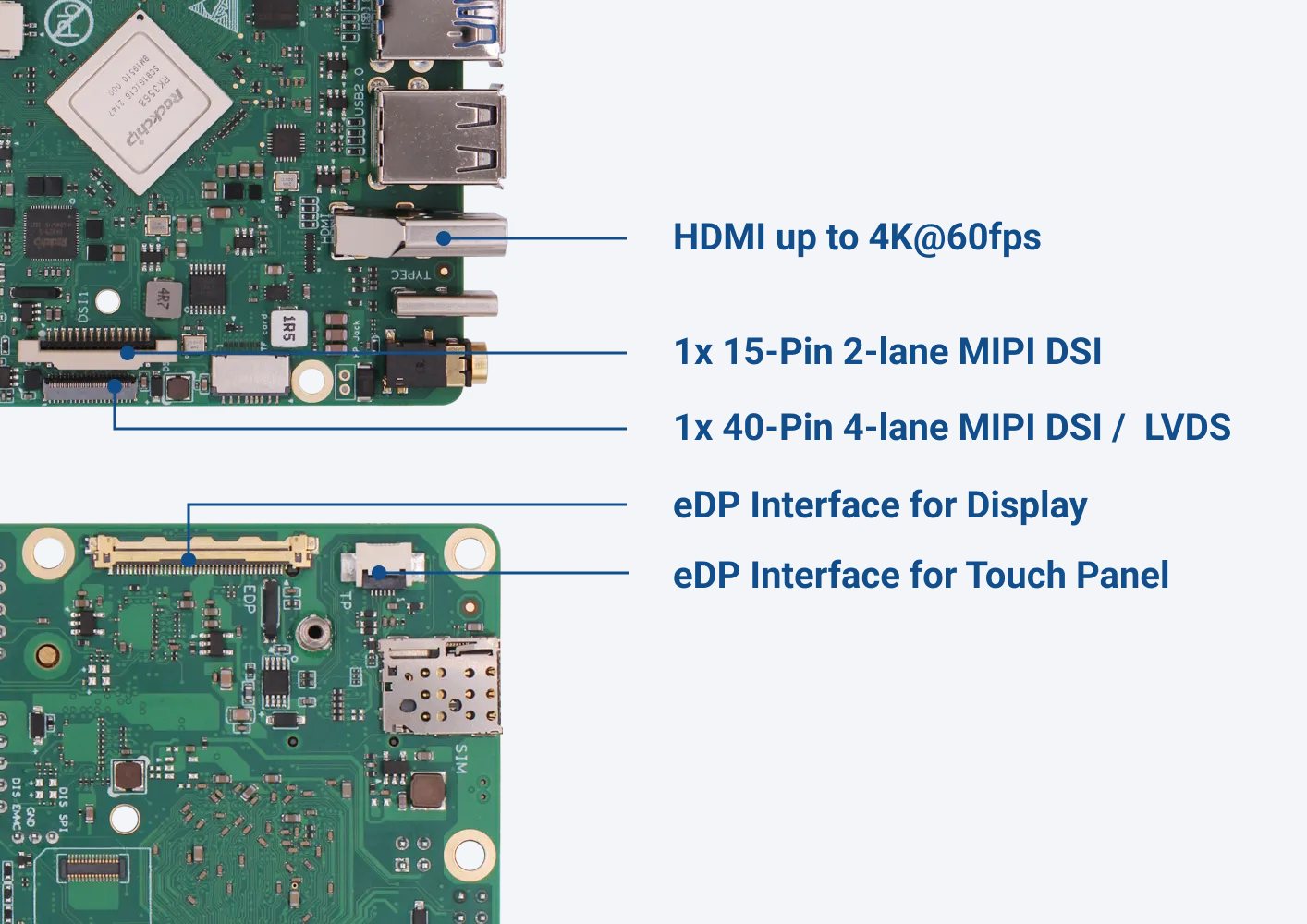 Tripple Display Support three of them:
1x LVDS / MIPI DSI
1x MIPI DSI
1x eDP
1x HDMI
Multiple Storage and Booting OS Solution:
eMMC Connector
MicroSD Card Slot
M.2 M Key 2280 NVMe SSD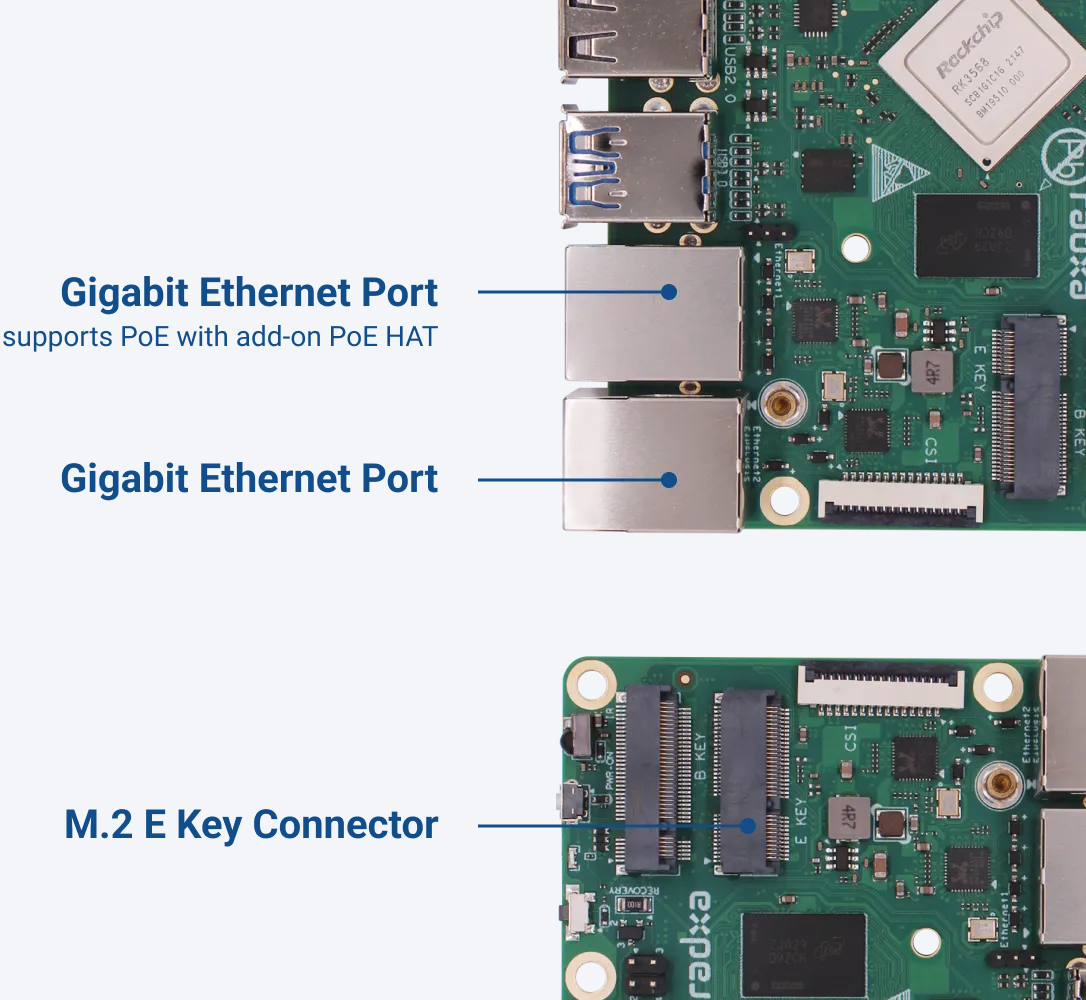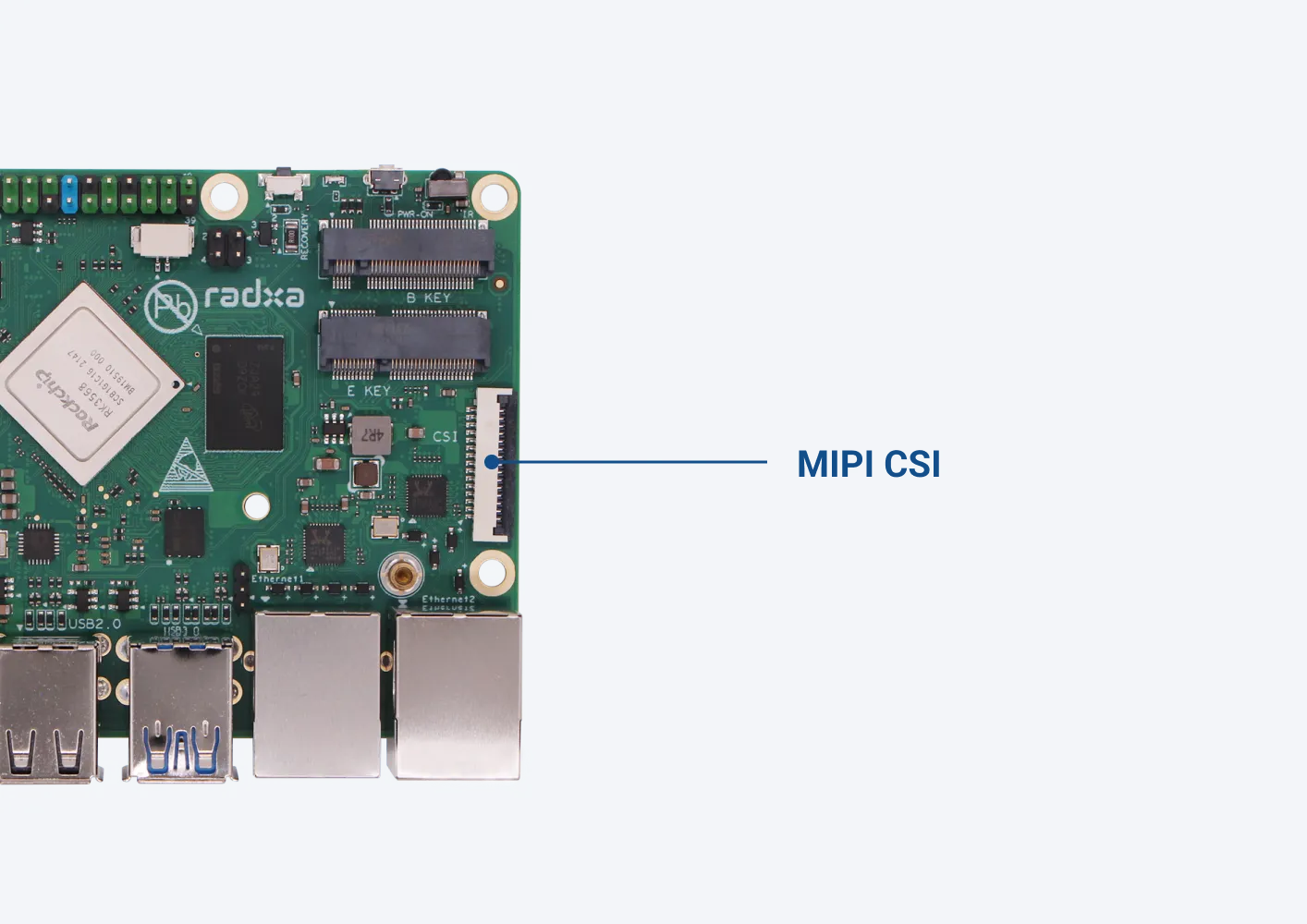 4K Ultra HD Display with Multi-Monitor Support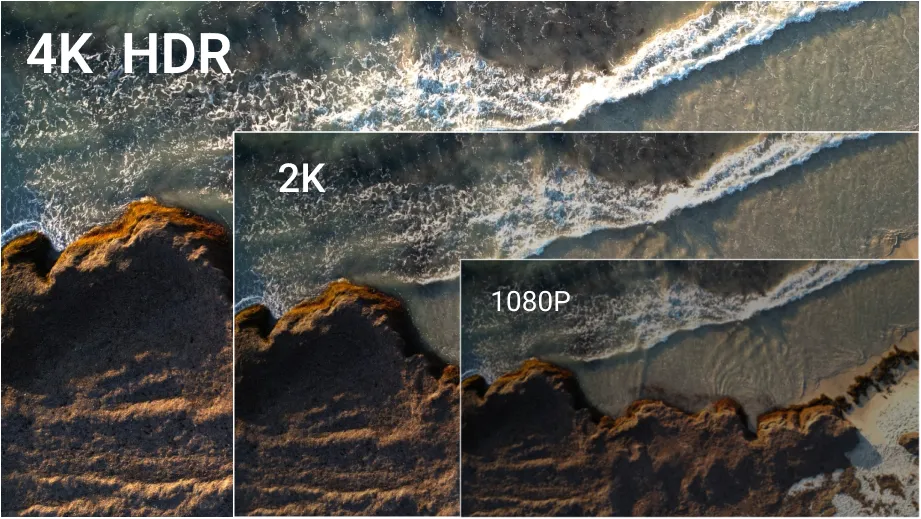 4KP60 H.265/H.264/VP9 video decoder
1080P60 H.264/H.265 video encoder
Support 8M ISP, Support HDR
Application Scenarios
Industrial Control

Edge Computing

Smart City

HMI
Comprehensive Technical Documentation,
Active Community, and Extensive OS Support
Comprehensive Technical Documentation and Active Community!

Radxa provides comprehensive technical documentation, empowering users to fully utilize their products. At the same time, they actively maintain an engaged community, fostering communication and collaboration among users.

Extensive Open-Source OS Support

Experience comprehensive support for a diverse range of open-source operating systems on our SBCs. In addition to Radxa's backing, we actively collaborate with third-party OS organizations, providing you with an extensive selection of options. Empower your projects with exceptional versatility and innovation as you discover both Radxa and third-party supported OS choices here.
Quality Assurance and
Long-Term Supply and Maintenance
01
Stringent Testing, Pursuing Excellence in Quality
A standardized manufacturing process, from component procurement and surface mounting to final production, undergoes multiple rigorous tests to ensure strict quality control.
Advanced Manufacturing

Quality Assurance

Premium Materials
02
Million-Level Shipment Quality Assurance and Supply Chain Optimization
With annual shipments of Radxa-related products in the millions, our supply chain has been optimized for large-scale production with quality assurance. By choosing Radxa's design services, customers can enjoy cost-effective and reliable quality guarantees.
Steady Supply

Automated Production

Timely Logistics
Buy Radxa ROCK 3B
Radxa ROCK 3B
Choose Available Country or Region
Global
This product is exclusively available through our network of Approved Partners. To find out more about our trusted partner network, please visit their websites.